The trials of a new grouse hunter: Article 2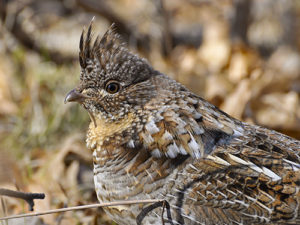 Author: Quinton Merrill
Instagram Handle: winninquinnin
We had been in the field for about an hour and a half with two woodcock already in the bag, and pressed on with my intention of limiting out for the day. I won't mention the numerous chances that I already had to fill my quota, but let's just say that it's a miracle Payton was still pointing birds as hard as she was with all the misses I had for the day. We were hunting a spot that I knew would produce a lot of woodcock and Payton was beginning to establish her own woodcock techniques, and it was really starting to impress me. Not only has she never really been exposed to woodcock, but having a heavy pheasant-esc background gave us a size disadvantage in locating woodcock in the first place. With the pheasant being a considerably larger size, it is somehow easier for a dog to pick up the scent. I've even heard stories of bird dogs jumping right over woodcock, but this wasn't the case today. One hard point after the other we delved deeper into the marshland as the rain progressed from a sprinkle to a steady rain—something that was sure to pass.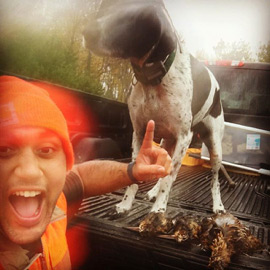 I've been learning that the first bird usually sets the pace for the hunt so when I saw Payton lock up, and I wasn't about to let her picture-perfect point go to waste. The woodcock was under a maple tree that was providing it with some relief from the weather. I moved slowly and swiftly in the direction of Payton's gaze and the bird whistled to my right. Thanks to some great dog work I was completely ready for the shot and folded it with the first bullet. An easy retrieve through the open brush and we pressed on.
Bird number two was a little more challenging just because it took us both by surprise. I had just released Payt from a strong, yet fruitless point, but the words of many other more experienced grouse hunters rung deep in my head: "trust the dog". It seemed to me like thirty minutes went by (more like thirty seconds in real life) and just as we were starting to move on to the next spot, the woodcock flushed slowly from the underbrush and into the canopy. I seem to have difficulty with the easiest of shots. I'm talking like, "why did you miss that bird, it was in the wide open 10 yards from you!" shots. So, this bird took two pumps of my Nova before hitting the ground. A reassuring pat for the retrieve and we prepared ourselves for the next bird.
What happened next happened very fast. One moment we were trudging through the swamplands of our secret woodcock crevice and suddenly a burst of feathers, much too big to be one of our little doodles, erupted from the creek. I was still mulling over at how big the pileated woodpecker was that just flew over my head not forty-five seconds before, and I was thinking that this was another that we may have spooked. WRONG! It was a grouse, and it almost took me too long to process that it was something I should mount my gun for.
Since this was the first grouse we had even come across this season, I lost all my hesitation for shooting into thick cover and mounted my gun for the shot anyway. As the bird flushed, Payton was still tracking a woodcock to my left but the grouse, eager to make a quick getaway, flushed from my right; straight towards Payton. I'm not sure if the young female grouse spotted her and slowed up a bit, but I did not deserve to make the shot. A combination of instinct, frustration, and possibly losing all inhibition after getting soaked in the marshland created the perfect storm for me to drop the bird with the first shot.
After hearing the shot Payton broke from her current pursuit and barreled ass through the knee-high water in front of me to make the retrieve. It reminded me of our first time in the duck blind six years prior when she had impressed me with two perfect wood duck retrieves. Once I had the bird in my hand I felt the last few flickers of its relaxing muscles before placing it in my game bag. I exclaimed "good girl!" so loud that at first Payton was a little taken aback by it, however she began to match my level of excitement in a true GSP fashion as we made our way towards dry land.